SERVICES
DESIGN AND ENGINEERING
Work with specialists to ensure your project is technically feasible, adapted to the hydrodynamic conditions of the environment, designed to optimize your investment and sustained over time.
The wonderfull conceptual design of a Master Plan has to be transformed into a real project that suits the conditions of shelter, wind, waves, depth, type of soil, currents and other conditions of the environment and also to the type of boats, navigation channels, water surface available, etc. You must define the services that should provide to the boats, where applicable, and the related necessary ground facilities to the client that will use the marina. Previous studies should be performed such as bathymetry, topography or agitation for assure that the final design is effective. We are talking abiut specialized engineering.
In a general view, a Marina complex can be divided into 3 parts: protection works (breakwaters) , floating docks and on land facilities & Real State
In Ronáutica Marinas we collaborate with specialized engineering companies to advise and take care of the definition of these three parts of your project, separately or in a complete and coherent manner. Starting with alternatives study, conceptual designs and basic projects up to the construction drawings and all calculation related to a complete project, even the construction management. Also the preparation of feasibility studies and business plans to define as much as possible the return on your investment.
Trust on specialists.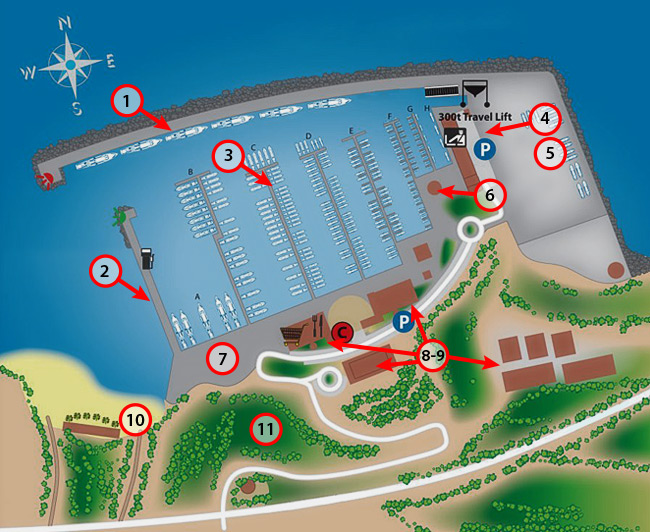 1. Seawall | 2. Floating Breakwater | 3. Floating Pontoons | 4. Technical Area and Travel Lift | 5. Dry Storage | 6. Harbour Master | 7. Interface Marina-Land | 8-9. Shops, Restaurants, Real Estare Development | 10. Beach Club | 11. Golf Course